Stand Out in 2021: Best Showroom Signage
Sweet Spot Signage
In humans, 83% of information is obtained from sight. In a showroom setting, your signage must simultaneously stand out, identify your brand, inform the customer and advertise your products.

Sound impossible? Far from it. Graffiti Design have manufactured signs and displays for some of the biggest retailers on the market. We've pulled start-ups from digital concepts to full-blown physical stores.

Whether you need showroom displays or a full re-brand, no job is too big or too small. Our team of experts provide end-to-end services with bespoke solutions tailored to each project.

Get in contact to discuss your project.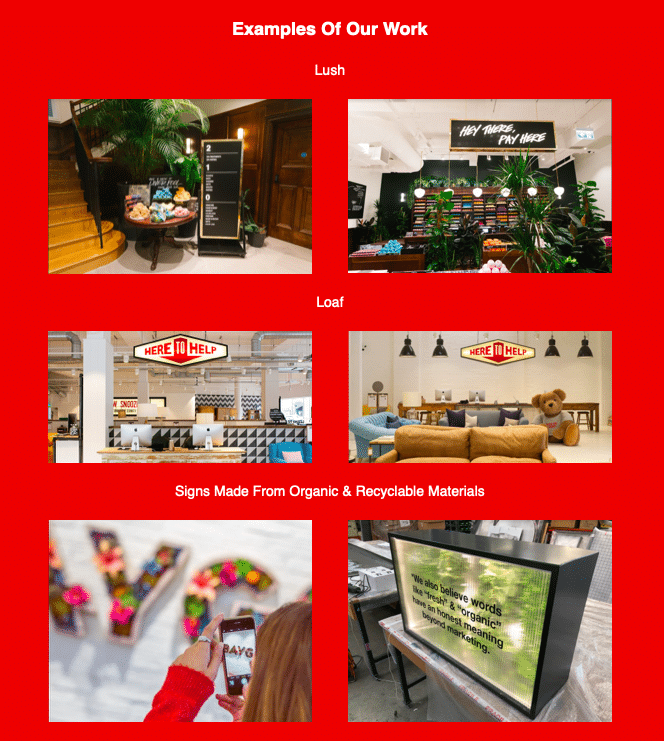 How to Effortlessly Convey Your Brand
It's a tough world out there. To make your business displays stand out, follow Graffiti's top tips:
Colour is King. Go for high-impact, contrasting display colours. Black on yellow is the most legible combination to the human eye.
Create a Focal Hotspot. Product hotspots can increase sales by 229%. Key information must grab attention at eye-level.
Tell a Story. Helps customers better understand the product and enable a buying decision. Tell them in three bullet points how it will make life easier for them.
Testimonials. 81% of customers systematically read reviews and ratings before making a purchase. Display yours close to your merchandise.
Go Bold. Displays are meant to grab attention, so keep it clean and sharp but always be creative and make wise use of empty space. The key is to expose customers to as much merchandise as possible.
Feedback from our clients:
"We needed an eclectic array of signs which had to look like they had been made years ago and had been picked up for next to nothing at a car boot sale… From our first meeting at Graffiti, the attention to detail, care and craftsmanship applied to each sign was an art in itself. Even though the store has only been open for a few weeks, we receive endless compliments about our 'very cool' signage. Well done and thank you guys. We are thrilled!" Dawn Gregory, Head of Creative—Loaf

---
Browse our full services.

Design – Make – Manage – Install – Maintain – Re-brand
---
Graffiti Design is a leading UK end-to-end sign making company. We help you re-brand, design and manage your brand through the expertise of our team. Our customers included many high-street names as well as corporate and leisure businesses.
Get in contact today to speak to a team member or call 01435 866763 for a quote.
For more news and examples of our work, follow us on Instagram, Facebook or Twitter. Browse the rest of our wide range of products and services.
---
Liked this article? More like this:
THE BENEFITS OF TEMPORARY SIGNAGE