Sign of the Times: the Key to Increasing ROI
Retail Signage Since 1976
2021 will be tough. Stand out from your competitors with the right signage.
If you think signs are outdated, think again.
Graffiti Design have manufactured signs and retail displays for the biggest names on the high street. We've pulled start-ups from digital concepts to full-blown physical stores.
Retail Signage Key to Increasing ROI
The importance of internal and integrated signage for retailers can scarcely be overstated. Design-focused retail businesses with great signage can expect a 300% ROI increase per square foot of space than businesses that don't invest enough in signage frequency, viewing pleasure or integration.
Start with knowing what your audience will be doing. When your audience sees your shop signs, will they be moving, will they be touching it, sitting down, looking up, or waiting at a point of sale? Size matters. As does placement.
Branding and Re-branding
Branding is crucial to the success of any business, starting with looks. You need to have a clear idea of your market needs, your brand image, and the message you wish to communicate. A graphic designer can create a logo that will appeal to your target audience, but it's important to have an end 'look' and 'feel' to aim for in your design so you can guide them. If your brand needs refreshing, do it before 2021 knocks at the door.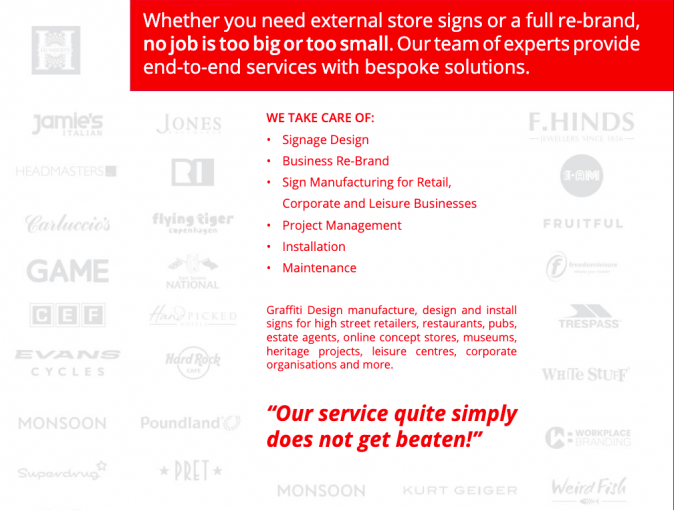 Graffiti Design is a leading UK end-to-end sign making company. We help you re-brand, design and manage your brand through the expertise of our team. Our customers included many high-street names as well as corporate and leisure businesses.
Get in contact today to speak to a team member or call 01435 866763 for a quote.
For more news and examples of our work, follow us on Instagram, Facebook or Twitter. Browse the rest of our wide range of products and services.