Why Traditional Sign-Making Skills Must Be Handed Down
Sign-making requires the mastery of a great number of diverse skills, from signwriting to glass blowing. Signs date back to the early Greek and Roman times. They started off as simple graphic representations of a trade, shop or tavern, normally displayed outside commercial premises. They were pictorial, as most people were illiterate at the time.
Sign-making evolved from a simple painted picture on a piece of wood to giant LED illuminated built up letters suspended from the top of skyscrapers.

Two of the most significant events in the history of signs were the invention of NEON, by a Frenchman called Georges Claude, first used at the 1910 Paris Motor Show, closely followed in the thirties by a revolutionary new material called organic glass, later to be known as acrylic. The advent of these two materials had a long-lasting effect on sign-making throughout the world.

Materials
The manufacturing of signs encompasses a huge amount of varied materials – wood, paint, gold leaf, stainless steel, mild steel, brass, copper, bronze, glass, acrylic, polycarbonate, neon, LEDs and many more. As a consequence, a good sign manufacturer must incorporate a range of these skills in-house – carpenter, metal fabricator, painter, gilder, electrician etc.

Computers
With the introduction of CNC equipment, vinyl plotters and digital printers, the sign industry suddenly became accessible to anyone with computer skills. However, without access to all the traditional, hard-earned signmaking skills as well, the sign maker is working with one arm tied behind his back.

Training/Apprenticeships
The reason traditional sign-making skills must be handed down is quite simple. While a computer can produce a perfect sign over and over again, it will have no character.

The best signs – the signs that stand out – are made by people, and people need training. An apprenticeship is the best way of providing that training. An apprentice will experience every discipline, from the drawing office (design software on PCs) all the way through to the vinyl studio (cut letter software on PCs), digital printing (PCs again), CNC routers and lasers, hand-built letters in stainless steel, aluminium and acrylic, metal fabrication, welding, paint spraying and powder coating, fitting LED and neon illumination, signwriting, gilding, and making, painting and fitting a wooden sign. 

No single person can be expected to master all these skills, but all of them remain essential to the sign industry. Some of our apprentices have even gone on to win Design Awards!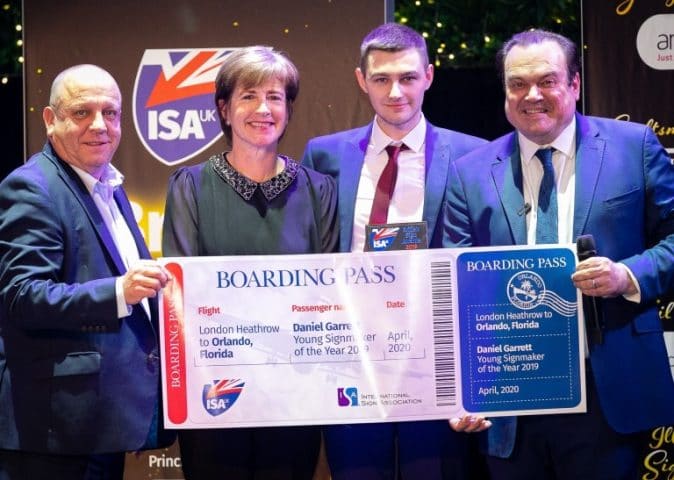 Apprentices who train with a quality sign company over a 3-5 year period will be the future of our industry. That legacy has to be maintained.

For more news and examples of our work, follow us on Instagram, Facebook or Twitter. Browse the rest of our wide range of products and services.

---
Liked this article? More like this:

GDITRAX: SIGN LIGHTING SYSTEM OF THE FUTURE
UNIQUE HALO LED NEON RETAIL SIGNAGE FOR UNIQUE UK RESTAURANT