Weird Fish – Halo Illuminated Sign
Over the last week couple of weeks, Graffiti Design has manufactured and fitted a halo illuminated sign for the up-and-coming retailer Weird Fish in Portsmouth's Gunwharf Quays.
Colin Pestell, project manager and Chairman of Graffiti, met and discussed in depth the possibilities for the signage with Weird Fish. After the specification and design was approved, manufacture begun.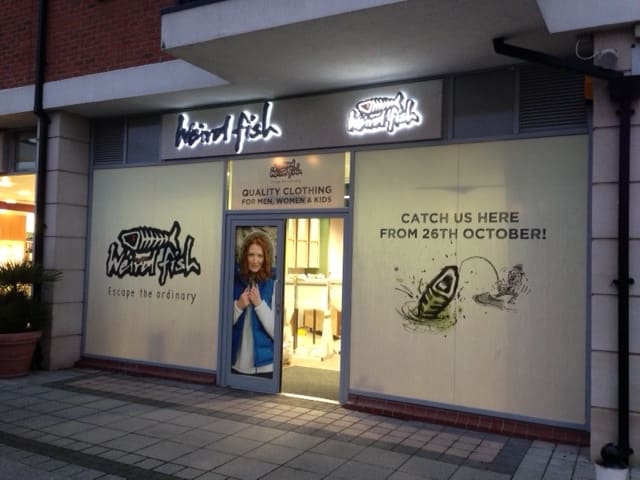 Graffiti Design was swimming with the tide on this project, specialising in built up illuminated letters and logos, this type of project was ideal. The Weird Fish signage consisted of built up aluminium letters all stove enamelled a dark blue, then given a distressed effect finish to the face, with SloanV180 series LEDs fitted and with a polycarb backing letter to provide the halo illumination. The logo was again stove enamelled aluminium, this time with face and halo illumination.
Both parts of the sign were fitted to an ACM back tray that had a digitally printed laminate applied to the face to give a certain pattern that was desired by Weird Fish. The letters  and logo were stood off the panel to achieve the full affect.
The install took place overnight in Gunwharf Quays, Portsmouth's designer retail park. It is a new store for Weird Fish which is due to open on the 26th October 2012, as part of their growth and expansion plan. Weird Fish currently have 10 independent trading stores, which Portsmouth is the 11th, and over 20 other concessions and stockists throughout the UK.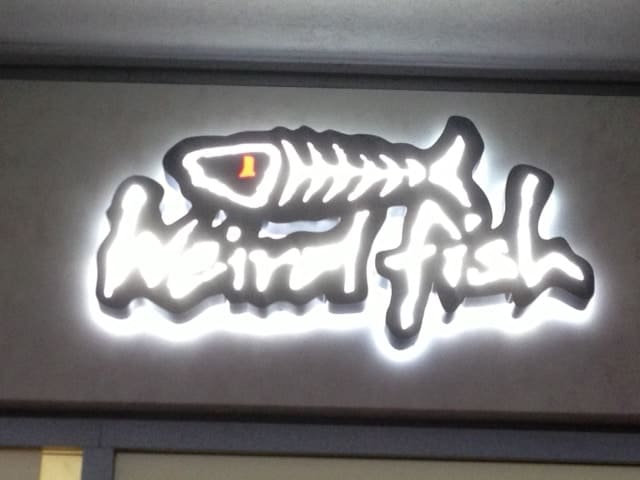 This well executed project will again hopefully turn into another fruitful and longstanding relationship for Graffiti Design which the company enjoys with many of their clients. This site down in Portsmouth follows a previous White Stuff that Graffiti completed back in 2010 which again was halo illuminated.