Massive New Monsoon Illuminated Signage
Graffiti Design has recently completed the new Monsoon signage for Monsoon Kingston store. The main side of the massive fascia stretched over 34 metres long with two projecting signs and four sets of illuminated built up letters.
This site is part of the continued rollout of the newly rebranded Monsoon Accessorize signage that Graffiti Design won back in March 2012. Now that the initial Olympic rollout has been successfully completed, Graffiti have been working through the major sites in the Monsoon Accessorize estate.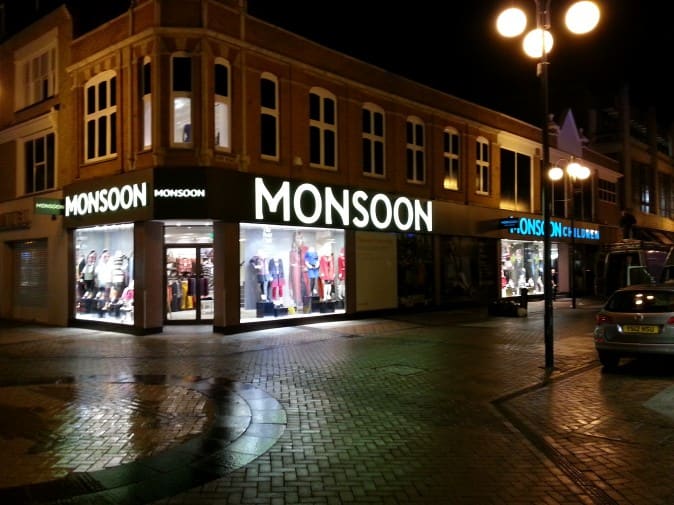 Kingston was just one of a number of the key sites for the worldwide fashion retailer; others have included Accessorize Euston Station, Kings Road London and Taunton. More sites are on the horizon and now in manufacture, Canary Wharf, Windsor and Crawley will be completed with the next couple of weeks.
The illuminated signage at Kingston was complex not just because of the size, but also the splay around the corner of the building. The powder coated aluminium trays were over 1.3 metres in height, and reached a little over 42 metres in length. There were four different sets of illuminated letters on the fascia, ranging from a cap height of 240mm over the door, to the main set which was 1.2 metres.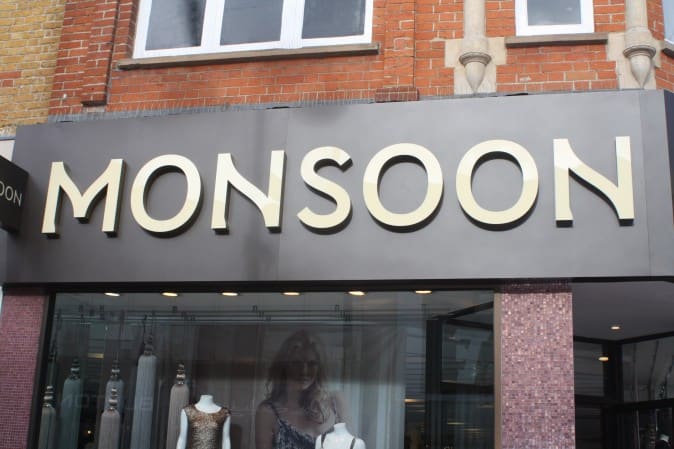 All the letters and both projecting signs were internally illuminated using LEDs, and diffused with opal acrylic. The job took over two nights to install because of the sheer size of the panels and letters.
The fascia also included the new Monsoon Children logo, in a very attractive illuminated blue. The other two sites where Graffiti has manufactured and installed the Monsoon Children fascia are Regent Street and Kings Road. The 'Monsoon' remains as built up illuminated letters although 'Children' is manufactured as pushed through illuminated letters, so they appear flush with the rest of the fascia.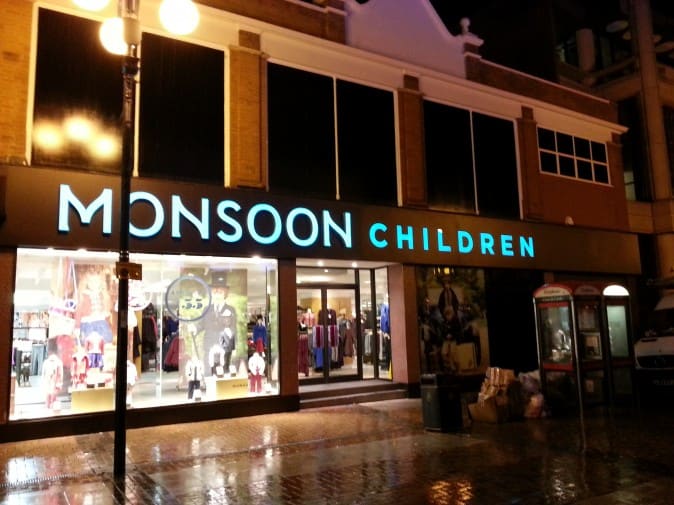 Graffiti Design has also been working on samples of the illuminated built up letters to be sent out Egypt for Monsoon, as the retailer spreads it wings to the Middle East.