Big Signs for Business | Large External Building Signage
Crucial to any bricks-and-mortar business out there, outdoor business signage makes up a significant number of the projects we work on at Graffiti Design.
Huge, eye-catching and designed to convey their brand from as far as possible, here are two of our recent corporate signage projects.
Steel Monolith Wayfinding Signage
Working with MJB Architecture, a leading architectural firm with whom we have worked upon numerous projects beforehand, Graffiti Design was asked to translate their original concept into a working, practical design for an advertising and wayfinding solution in Ashdown Business Park. The brief was to create giant, eye-catching monoliths resembling an 'A' for Ashdown to highlight the entrance and location of the business park.
For this complex project, we used soldering, welding, and structural adhesives to form the unique shape that has become a recognised icon of the business park. The materials used were marine grade stainless steel, powder-coated aluminium, digitally printed media and solar technology for energy-saving power systems.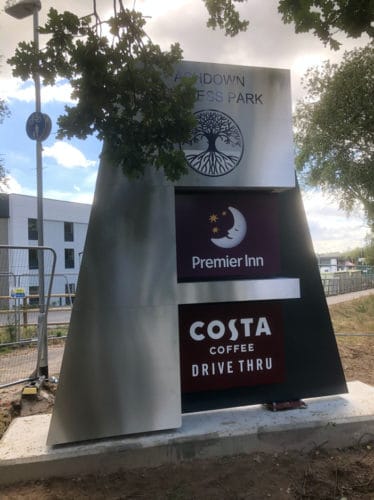 The monoliths themselves were constructed out of painted aluminium panels, brushed stainless steel, mild steel, aluminium angle and aluminium box section. The biggest challenge during manufacture was making sure all the fabricated pieces fit together nicely. Many adjustments were necessary due to having lots of different layers and different depths of materials and panel. The weight of the sign also made things challenging: each piece required three men to handle!
Installing the three monoliths proved to be challenging and, in the end, extremely rewarding. The location and positioning of the monoliths meant we had to very carefully manoeuvre remaining parts such as the solar power lighting system. At one point, the mobile scaffold tower became completely obsolete and we had to manually lift a panel to access the rear.
Finally, mains power being unavailable, we were able to install battery-powered solar panels with a specially designed programme to monitor light levels, which extend the battery lifespan by activating the LEDs only when necessary.
The result: three gargantuan and eye-catching signs easily visible even in low light. Job well done!
Wayfinding Signs Benefits: improved brand visibility, streamlined vehicular traffic and increased foot traffic for featured brands.
Large format wayfinding signage is crucial to corporate settings, be it car park or office signage. If you are considering exterior building signs including totem signs, be sure to get in touch with our specialists at Graffiti, who can design and print examples based on your brief. Read more on how to get wayfinding signage right.
Large Professional Corporate Signage for PGL
A recently completed project for PGL Brickwork and Scaffolding. This client wanted a professional finish sign that stands out yet sits in line with their construction industry.
The result? A three-metre long stainless steel shell, with an aluminium panel feature and reverse built up letters fixed on top. ⁠The layered design and overall look of this sign add interest, catching the eye and mimicking the crystal-cut professionalism of PGL's craft.
The sign itself we manufactured from painted aluminium, brushed stainless steel, mild steel frame and opal acrylic for the illuminated letters.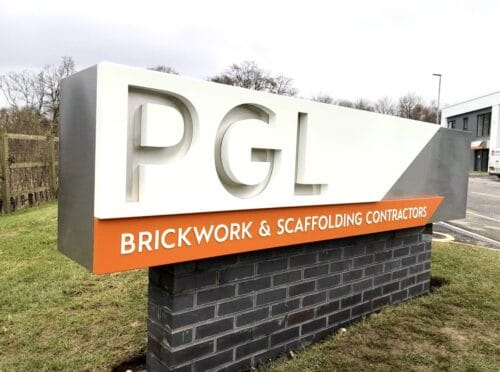 During the manufacturing process, we produced two sets of reverse built up letters. One was made of acrylic and destined to be illuminated, and one was made from aluminium, meant to be non-illuminated. The depths of these letters needed to be extremely accurate to ensure they were fixed into the panel and onto the wall without anything sticking out or clashing.
Installation was straightforward, apart from the process of lifting of the stainless steel box onto the brick wall structure, during which we had to make Health and Safety our priority. The stainless steel box was about 3000mm long by 500mm wide and 650mm deep, so it was extremely heavy and had to be lifted and carefully secured over the framework.
Read more on how to boost your ROI with internal and exterior signage.
---
Graffiti Design is a leading UK end-to-end sign making company. We help you re-brand, design and manage your brand through the expertise of our team. Our customers included many high-street names as well as corporate and leisure businesses.
Get in contact today to speak to a team member or call 01435 866763 for a quote.
For more news and examples of our work, follow us on Instagram, Facebook or Twitter. Browse the rest of our wide range of products and services.
---
Liked this article? More like this: