5 TIPS TO GET WAYFINDING SIGNAGE RIGHT
Good wayfinding signage needs to engage with as well as inform the visitor. It should guide people and can be attractive, but most importantly, it must clearly inform. Although wayfinding projects are not always the most exciting of tasks, they are crucial to the integrity and safety of a building, so it critical that it is done correctly.
Here are five useful tips to get your wayfinding system right.
1. Be prepared to produce an up-to-date current building plan, including all internal elevations.
2. Discuss your wayfinding designs and requirements with your signage manufacturer. They will advise on safety signage requirements. It may be necessary to employ the services of a professional Health & Safety expert.
3. Survey the building with your signage supplier to determine the exact position of all signs, ensuring photographic record and meticulous notes are taken. In the case of hospitals and large hotels, this can take up to 2 or more days.
4. Ask for detailed drawings showing wayfinding signs in situ, and make sure you give sign approval before proceeding.
5. Take a photographic record of signs once they have been manufactured and installed. This helps to establish proof of quality, condition, and installation process.
An effective wayfinding strategy and safety signs are there to make a visitor or customer's experience a relaxed and safe one. Unfortunately, there is no substitute for hard work and planning, so make sure you do your research and discuss each step of the signage system thoroughly with the other party.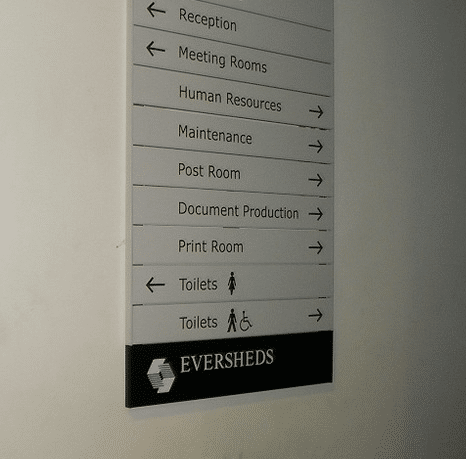 Wayfinding Signage Solutions
Graffiti Design is a leading UK end-to-end sign-making business. We help you re-brand, design and manage your brand through the expertise of our team. Our customers included many high-street names as well as corporate and leisure businesses.
Get in contact today to speak to a team member or ask for a quote.
For more news and examples of our work, follow us on Instagram, Facebook or Twitter. Browse the rest of our wide range of products and services.

---
Liked this article? More like this:

A HISTORY OF SIGNS, SIGNMAKING & TYPES OF SIGNAGE
SIGNAGE BEST PRACTICES: BOOST YOUR ROI WITH THESE THREE SIMPLE STEPS