Illuminated retail signs get Made.com
This week we completed the retail signs for trail blazing e-tailer made.com. The start-up has been well received by online customers, as they create a buzz with their direct to market offer and passion for giving customers products directly from the manufacture, therefore cutting out the pesky 'middle-man'.
Their signs were installed at their new head offices in Notting Hill, London by our expert engineers this week. The signage build was built-up letters from yellow acrylic with black faces which was mounted onto folded aluminium sign tray with fluorescent illumination. The entire sign was then suspended from the ceiling.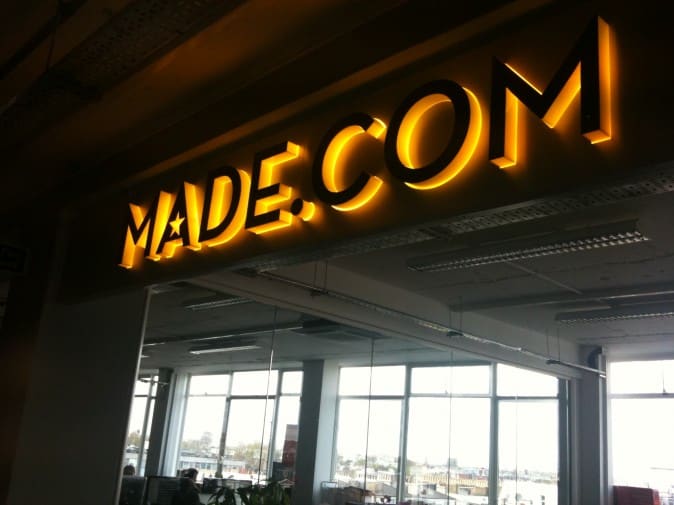 The top notch signs match the culture at the classy company and we hope that the new signs will continue to help Made.com prosper in a market place which they continue to shake up. Win Kwock, Art Director at Made commented "We're absolutely thrilled with our new signs, thank you".
Made.com was founded in 2010 by Chinese-French entrepreneur Ning Lee, who has brought his knowledge of Designer furniture and international logistics to serve a new market in the UK.
Mr Lee noted in an interview with Gq-magazine.co.uk that "selling high-end furniture for discounted prices makes sense." and also in the same article that "The retail industry is at a tipping point. The internet has started to democratise every industry." Other retailers would do well to take note of Made's strategy and the way retail is changing in the UK and how to take advantage of the changes.
To discuss any retail signage or other project you may have then please get in contact with us, we'd be pleased to help.