We've just launched our new range of property display units at Graffiti Design signs. Our latest creation from our R&D lab is an LED illuminated, freestanding display unit designed for estate agents.
The standard unit is made from aluminium and has 6 x A3 size landscape pockets which can also be used as 12 x A4 portrait pockets. Strips of LEDs provide down lighting which fully highlights each property. The design is very efficient as it uses LEDs which are more energy efficient than standard lighting, and the design is simple and modern. It fits nicely into any store layout, especially for window display and can be tailored to either hold more or less advertisements. The unit come in a range of colours and has space for the Estate Agents' branding.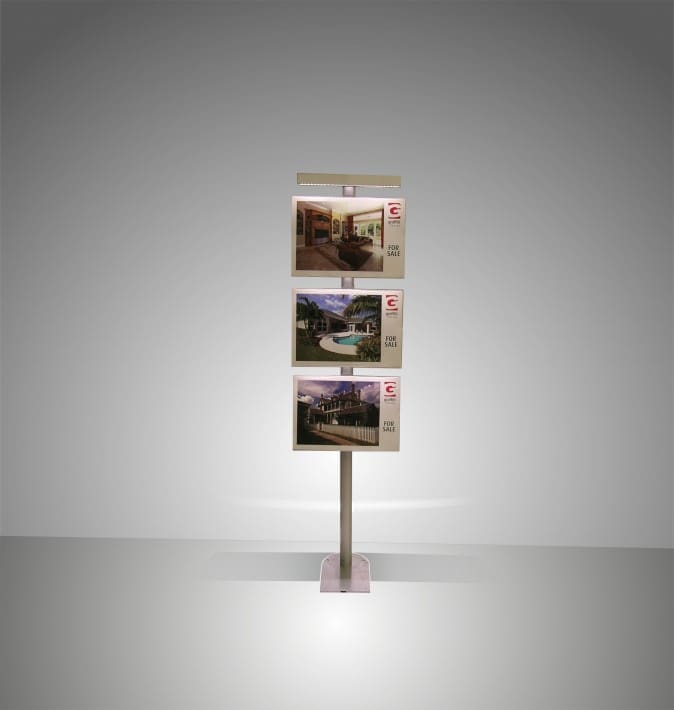 The move to our new premises has allowed us the space to start a research and development facility for all our products and the new LED property display unit is the first of many. All the electrics are neatly hidden and stowed away within the cylindrical centre and it can be simply plugged into and standard plug socket.
One key feature of the display stand, is that it can be placed anywhere within the store. As it provides illuminated advertisement on both sides, it is great for positioning anywhere, and can be moved with ease.
The illuminated estate agent display has quickly attracted plenty of attention which has resulted in some substantial orders already.
For more information please download the product sheet or get in contact with us for consultation on your estate agents signs.