Graffiti Design can now announce that we will be producing the complete interior and exterior signage and graphics for its first Coffee Republic store.
After an amicable and positive meeting with a director of Coffee Republic, and a successful tendering process, Graffiti has won the work for the new Oxford outlet. We have also been named and confirmed as the signage and graphic supplier for a hopeful second new opening in London which is in the not too distant future.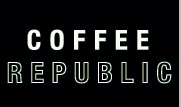 Once the works are complete, Graffiti Design will be placed in the brand manual for Coffee Republic, and will be the named supplier for all the new franchises and the six company owned stores.
Peter Phair, Sales & Marketing Executive and project manager for the works commented: "This is another great success for the company. To be selected by a large high street name with stores nationwide is a great opportunity for us to exploit. To be associated with a brand this powerful is exactly the sort of market that we aim for and are moving into rapidly."
The specification for Coffee Republic consists of a white dibond tray, pushed through opal acrylic letters with painted aluminium faces – all illuminated. There will be an illuminated circular projecting sign and internal vinyl and graphics, all the sort of things that we specialise in.
We have now gone into manufacture for all the signage and graphics and installation will be in September, shortly before the store will open, however a date is yet to be confirmed.