Every so often an opportunity comes along that allows us to really push ourselves, to explore new production methods and to create unique and eye-popping signage. So when Archetypely approached us in March of last year, we jumped at the chance to get involved.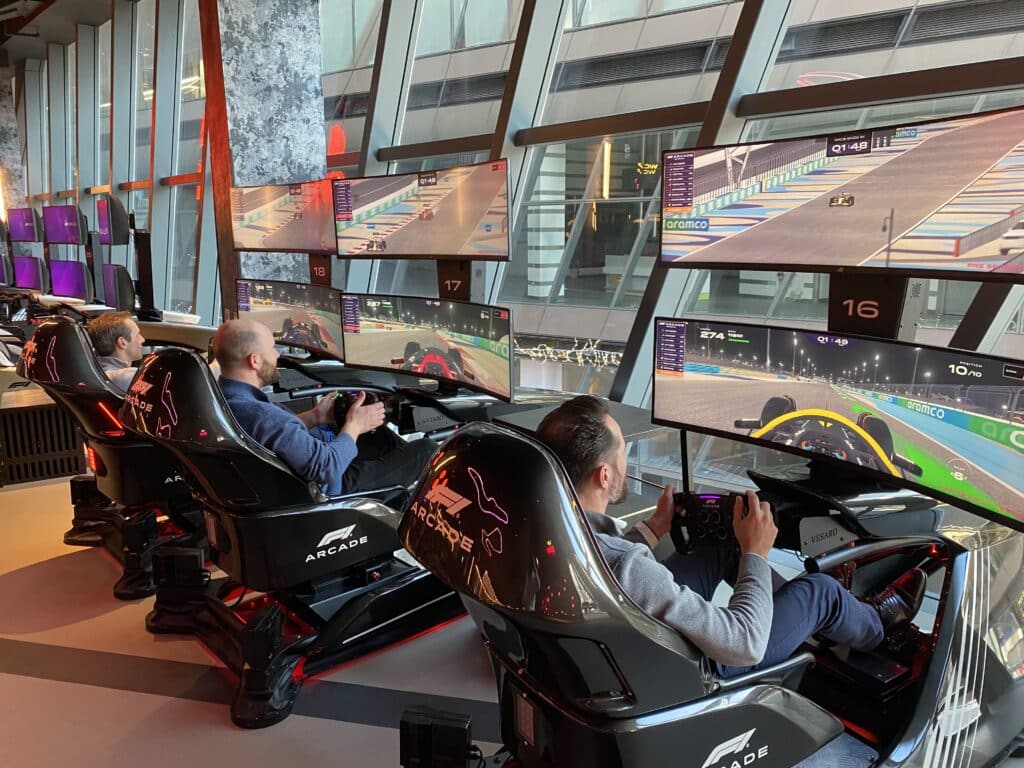 Located right next to St Paul's Cathedral, F1 Arcade is one of the most exciting projects that crossed our desks this year, a market first with high quality food, beverages and immersive Formula One racing simulation.
This unique venue was developed by Kindred Concepts, whose founder, Adam Breeden, was behind competitive socialising concepts such as Bounce, Flight Club, Puttshack and more.
It was made clear from the initial brief how important a role the signage would play at this venue. As a completely new concept, all visitors would need a helping hand finding their way around and engaging with the new technology, therefore the signage had to be highly functional, yet convey the engineering prowess, Champagne/Monaco glamour associated with Formula One!
Technical drawings and samples were required within a few weeks to get this project moving, as there were tight deadlines to meet, with VIP visits and soft launches planned. Due to the desired interior look and feel that the owners envisioned, all samples had to go to site, be physically examined and signed off, to ensure they had the correct finish and feel. It was all about the minor details such as how the welds were finished, how the wiring was colour matched and concealed, and which fixings were used. Not a single detail could be overlooked in this process.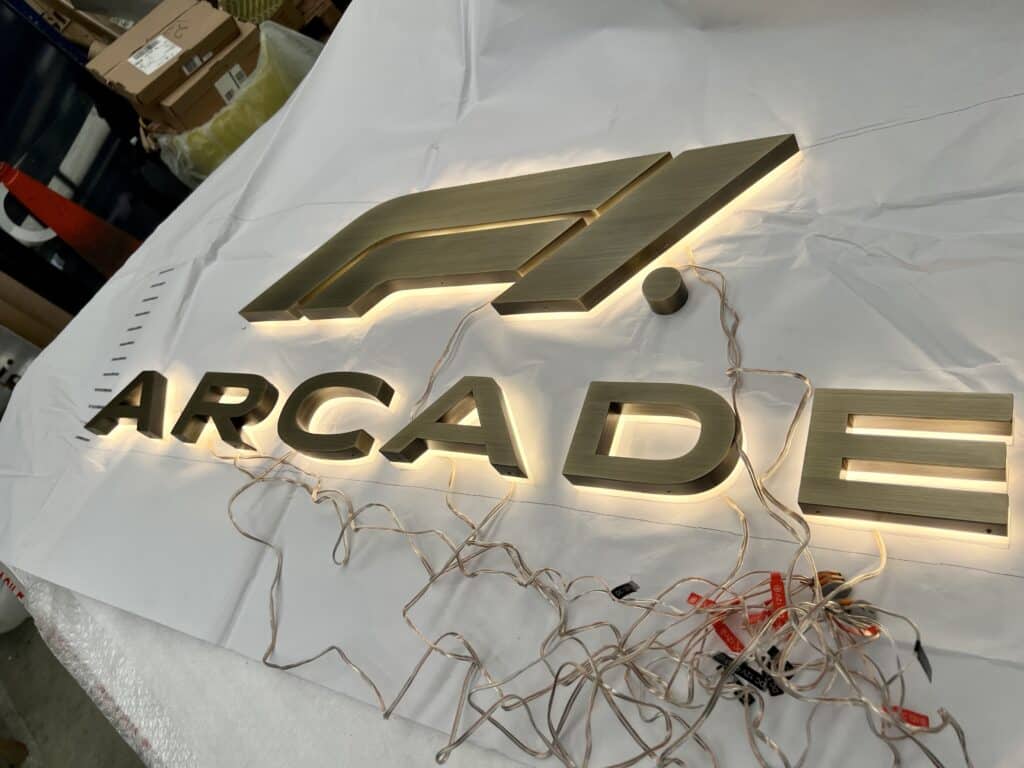 The signage was very unique. The idea was to have something quality, and classy to fit with the overall interior design, however it still had to remain practical, and have the race track formula one feel about it. Our design team worked very closely with the client to make sure this was achieved.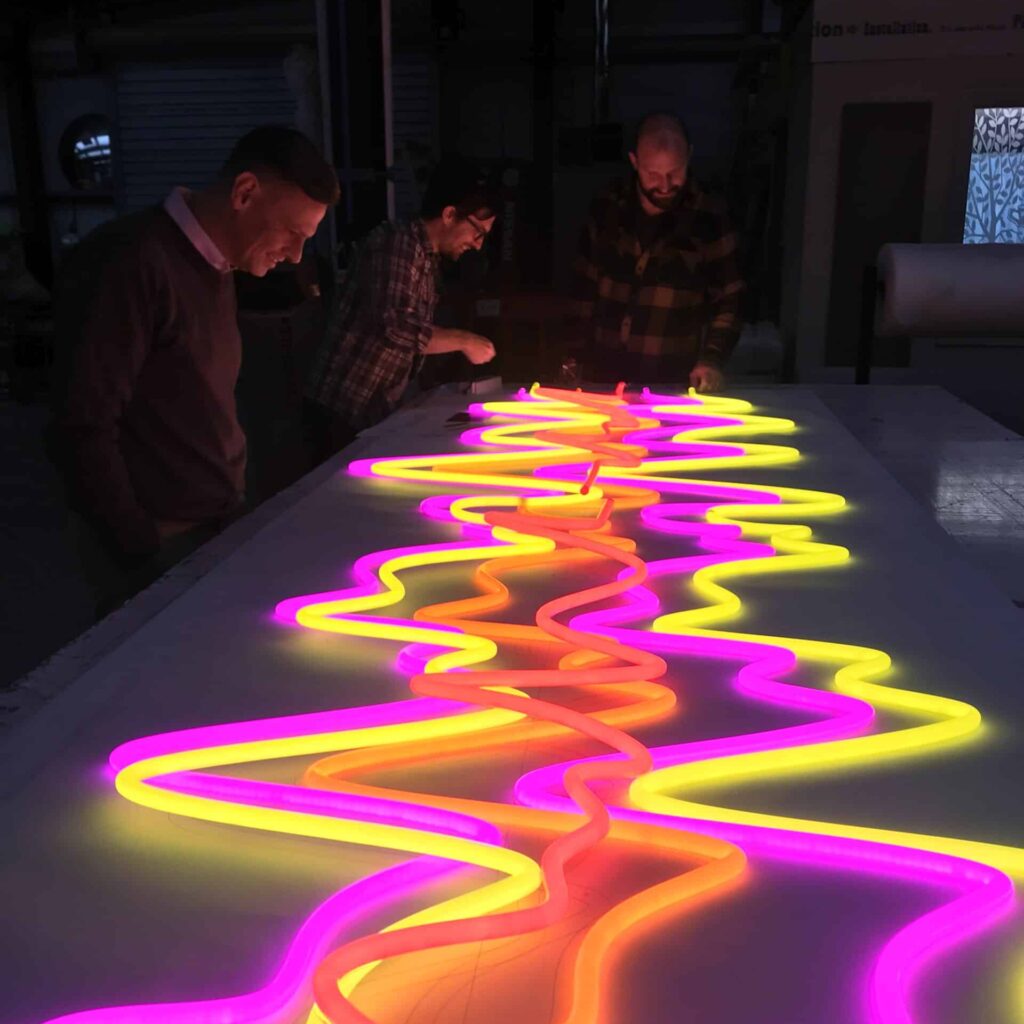 A combination of manufacturing techniques were used during the process, making our CNC router earn it's keep, along with our team being given the rare chance to use their creative instinct on the best methods of assembly and fabrication to give off a hand crafted feel. All the illuminated signage had to be dimmable and compatible with various software packages.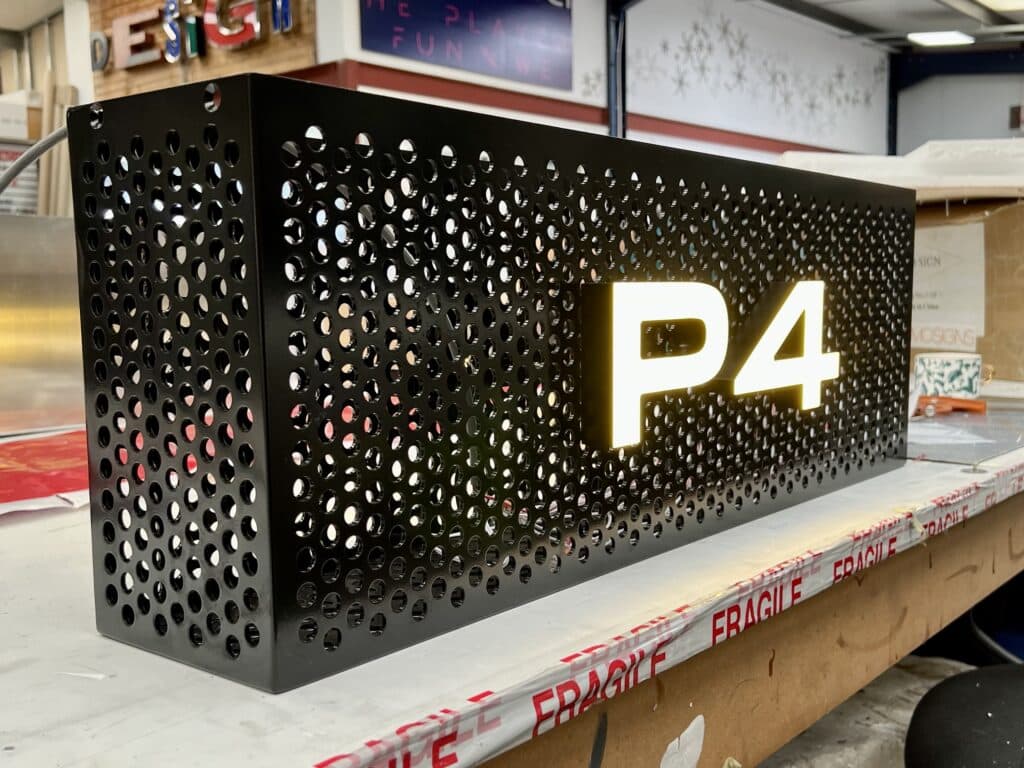 Detail was everything on this project. Such as working out the best hole size and spacing for a batch of perforated, folded suspended signs. It was vital to find the happy medium, as the quantity and size of the holes would have an effect on the strength of the unit and make them difficult to assemble, but too few or too small and we would move away from the intended look. One of our personal favourites was the multi-coloured 360 degree illuminated faux neon wall. With multiple colours and layers, this was a challenge in itself. All sections had to be carefully planned out to size, and laid out on a drawing to ensure no clashing. These were installed on various sized spacers to make sure they just about avoided each other on different levels, and the visual impact was impressive to say the least! Even the toilets were given their own feel with illuminated red faux neon race tracks installed inside.
The installation was like a separate project. Being located on the 2nd level, getting the signs and access equipment required additional coordination. The main issue around installation was the project deadline. We were on site during the whole fit out, working around decorators, builders and electricians, all trying to complete their own work to the deadline, all battling for the space! Installation had to be phased due to this, with the project going up over the course of a few weeks. It was incredible for the team to see this building site turn into such a high end location across the weeks.
Overall, the feedback has been overwhelming, with no signage snags on the report, we are over the moon with the efforts from all involved, and are looking forward to the next site in 2023.